Rev. Abraham Kahikina Akaka
Remarks of Senator Daniel K. Akaka
In tribute to the late
Reverend Dr. Abraham Akaka
Pastor Emeritus, Kawaiaha'o Church
October 21, 1997

Mr. President, I rise today to honor the memory of the Reverend Dr. Abraham Akaka, my brother Abe, who passed away last month. Brother Abe, as our family knew him, was "Kahu," meaning shepherd in Hawaiian, to people of faith in Hawai'i. For 28 years, he was pastor at Kawaiaha'o Church, the Westminster Abbey of the Pacific, Christianity's mother church in Hawai'i. A true man of God, he dedicated his life to serving our church and its congregation, while attending to the spiritual needs of our people and communities across our state and nation. In a life marked by numerous achievements, honors, awards, and titles, the appellation "Kahu" best describes Brother Abe.

He was also a beloved husband and wonderful father to his five children, aided in his ministry by his wife Mary Lou Jeffrey Akaka. He was a source of comfort and inspiration, a bulwark of strength, and font of love for our family, and will be sorely missed.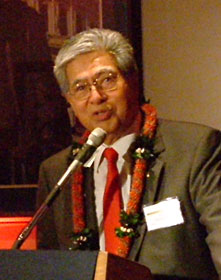 On September 10, 1997, the Rev. Abraham Kahikina Akaka, retired pastor of historic Kawaiaha'o Church and Hawai'i's most widely known clergyman, died at the age of 80. Hawai'i mourned and people across the globe were saddened at the news of his passing.
For 28 years until his retirement in 1984, he led Kawaiaha'o Church, originally a grass-thatched meeting place built by Hawaiians in 1821 for the Rev. Hiram Bingham, the first New England missionary to preach and teach on Oahu. Rebuilt in 1842 with a New England-style edifice of gray coral blocks cut from offshore reefs, Kawaiaha'o became the official church of the Hawaiian Kingdom and often called Hawai'i's Westminster Abbey. Several of Hawai'i's kings, queens and high chiefs attended services there, and all sermons were given in Hawaiian until Rev. Akaka, as one of his first innovations, preached regularly in both English and Hawaiian.
As the Kahu (shepherd) of Kawaiaha'o Church, the soft-spoken, velvet-voiced Congregational minister began many sermons strumming his ukulele in song. He typically put in a 17-hour work day, prompting The Saturday Evening Post to call him "Hawai'i's hustling shepherd." Newsweek magazine described him as "having the charm of a beachboy and the force of a Billy Graham." He rubbed shoulders with Hawai'i's political figures, business executives, labor officials, educators, professionals, the poor and the beachboys, and in his time was described as the most influential and widely known Hawaiian since Kamehameha the Great.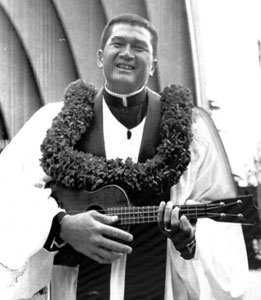 Many dignitaries attended Rev. Akaka's church services. A service in April 1970 for the safe return to Earth of the Apollo 13 mission, was attended by President Richard M. Nixon and Mrs. Nixon. In his sermon that morning, Akaka compared the people of the Earth - black, white, brown and yellow - to the strings of an ukulele, and demonstrated on his ukulele how beautifully they can work together in harmony and how dissonant they can be when harmony is lost.
In his notes dated April 19th, 1970, "124-Remarks on Departure from Honolulu," President Nixon wrote: "It was worth coming all the way to Hawai'i just to hear his service. I have heard many services in my life, but I have never heard a sermon that was more eloquent, more appropriate, and timely for not only this event, this day, but for this period in the history of this world...I wish it could be heard all over the world. I wish he could bring this message the way that he speaks it, and its content, the delivery, and particularly the spirit of it, not only here, but other places...It was really one of the most moving and meaningful religious services I have attended, and I have attended a great number of very fine services." A notation on his archived memo reads, "The sermon to which the President referred, delivered by Reverend Dr. Abraham K. Akaka at the Kawaiaha'o Church in Honolulu, is printed in the Weekly Compilation of Presidential Documents (vol. 6, p.551.)."
Akaka retired in 1984 but remained an active, vibrant force in the community for the next 13 years. On the day he was buried, State flags flew at half staff and the overflow crowd attending the services had to be accommodated in a huge tent on the grounds of Kawaiaha'o. Dr. Michael Chun, then president of Kamehameha Schools, spoke on Akaka's strong promotion of education among Hawaiians; former Honolulu City Councilman Leigh-Wai Doo described the Reverend's role in the community; U.S. Senator Daniel Akaka spoke of his brother's influence nationally and with his family; and Rev. Ted Robinson addressed Kahu's work as a religious leader.
Religious Upbringing
Abraham Kahikina Akaka was born on February 21, 1917, the fourth of eight children. The Akaka children were raised by their Chinese-Hawaiian father and pure Hawaiian mother in a strong Christian home where the day began and ended with prayer and the singing of hymns. Everyone, including children, worked to support the family. Young Abraham worked in the taro patches of Pauoa Valley, where he grew up. He also sold newspapers and shined shoes, putting himself through McKinley High School and the University of Hawai'i. He went on to graduate from Illinois Wesleyan University as a sociology and music major, and later graduated from the University of Chicago Theological Seminary.
Ordained a minister in 1944, his first church assignment was on Kaua'i for two years, then on Maui where he served three churches for nine years. Rev. Akaka turned down the first call from Kawaiaha'o Church soon after he began his work at Haili Church on Hawai'i Island, but accepted the second call from Kawaiaha'o three years later in 1957.
In 1939, Abraham Akaka was chosen as Hawai'i's delegate to a World Conference of Christian Youth in Amsterdam, the Netherlands, one of 2,000 young people from 72 nations.
He later said of the experience, "Suddenly everything came into focus. Here was a gathering of many nationals united by love of God and man. There was no common language, but they understood each other...Faith cut through all language and racial barriers and unified them. For the first time, I saw the Christian faith in a new light...It dawned upon me that the ministry was my life."
Spread the Message of Aloha
Akaka was much in demand as a speaker both in Hawai'i as well as on the continental United States. In March 1964 he addressed 17,000 at the famed Easter Sunrise Service at the Hollywood Bowl.
In the islands, Rev. Akaka was the most sought after minister to officiate at dedications, groundbreaking and grand opening ceremonies. He was the voice of prayerful aloha at thousands of graduations, weddings and funerals. He carried the ashes of Duke Kahanamoku out to sea in 1968, and performed the services for Eddie Aikau who was lost when the voyaging ship Hokule'a capsized south of the islands in 1978. Early on in the Hawaiian movement he led a historic protest march that resulted in appointment of Hawaiian trustees to Bishop Estate. Years later he selected the name Ko 'Olina (joy fulfilled) for the development on the west coast of Oahu.
Wherever he went, he spread the message of aloha through his sermons, advocacy and presence. An accomplished musician, he composed an oratorio, "Aloha Ke Akua," around a favorite Bible verse as a tribute to 175 years of Christianity in Hawai'i. The Honolulu Symphony and choirs continue to perform his "Kristo Ka Pohaku Kihi" (Christ the Cornerstone).
Advocated For Social Justice
Dr. Martin Luther King, Jr.'s participation in the Civil Rights Week symposium at the University of Hawai'i in 1964 marked the beginning of a close friendship between Rev. Akaka and the civil rights leader. In February 1965, Jimmy Lee Jackson, an Alabama teenager was shot and killed by a state trooper during a peaceful demonstration in the Perry County courthouse square. Returning to Alabama, Rev. King led a symbolic march two days later, and on March 25, a third march began. A famous picture of Rev. King leading marchers onto Montgomery, is captioned, "During part of the famous Selma to Montgomery Freedom March in 1965, Martin Luther King and fellow civil rights leaders wore the Hawaiian necklace of flowers - the lei - to symbolize their peaceful intentions." The lei were gifts from Rev. Abraham Akaka, who wanted to protect, honor and lend his support to the courageous marchers by adorning them with white flowers.
As the first chairman of the Hawai'i Advisory Committee to the U.S. Commission on Civil Rights, Akaka went to Washington to lobby for the passage of the civil rights bill in 1964.
He worked untiringly to preserve the Hawaiian way of life, not caring who he attacked to meet the objective. He was openly against the attempts by Hawai'i state government to desegregate Kamehameha Schools and force the institution to hire non-Protestant teachers. He fought against passage of Hawai'i's land reform law that he feared would break down the land holdings of Bishop Estate, whose income supports the Kamehameha Schools.
Akaka urged the Hawaiian people to uplift themselves, saying it is important that they develop competence in the economic, political, technological and scientific spheres. This, he felt, "was essential to the survival of any people today."
Enormously popular and held in high regard by the people of Hawai'i, Akaka was asked to be running mate for lieutenant governor by both gubernatorial candidates, Republican William F. Quinn and Democrat John A. Burns in 1962. He turned down both offers, and when asked which party he preferred, he answered, "You ask God what (party) He is and that's what I am. Meantime, I'm a bridge between the Republicans and Democrats."
Hawai'i, the 50th State
Rev. Akaka was giving the Territorial Senate's opening prayer in 'Iolani Palace when Hawai'i's statehood was announced.
"There were automobile horns, sirens, firecrackers and all that traffic on King Street," Akaka recalled. "So much joyful noise that I just stopped in the middle of my prayer and listened to all the sound." As Akaka walked back to Kawaiaha'o Church across the street, he could see politicians shaking hands and congratulating each other. "At the Kamehameha statue, I noticed people kept going into the church. When I got closer, I saw Neal (Honolulu Mayor Neal Blaisdell) on the steps - he was gesturing me to come. He said 'Oh, Kahu, let's have a service.' I looked in and the church was filled. I said, 'Will you help me? We'll walk up together, then sing My Country 'tis of Thee. Then I'll ask you to read the scripture from Psalm 33 - Blessed is the nation whose God is the Lord.'"
The next day, Akaka prepared a special statehood service, which included the singing of America, the Beautiful. "I never heard the hymn sound so beautiful. I thought the roof would cave in," he said. "People's spirits just soared. After the service we rang the church bells. All the children, everyone took turns for a couple of pulls on the rope."
Many Honors and Recognitions
One of Rev. Akaka's proudest moments came when he was chosen to give the address at the formal Hawai'i statehood service of dedication on March 13, 1959. He wanted Hawai'i to be known as the Aloha State. "Aloha is the spirit of God at work," he said. The address was reprinted in anthologies and in 30,000 leaflets.
"We need to see that Hawai'i has potential moral and spiritual contributions to make to our nation and to our world. The fears Hawai'i may have are to be met by men and women who are living witnesses of what we really are in Hawai'i, of the spirit of Aloha, men and women who can help unlock the doors to the future by the guidance and grace of God...This kind of self-affirmation is the need of the hour. And we can affirm our being, as the Aloha State, by full participation in our nation and in the world. For any collective anxiety, the answer is collective courage. And the ground of the courage is God...Since the coming of our missionaries in 1820, the name for God to our people has been Aloha."
Akaka was active in many Hawaiian civic groups, including the Friends of Kamehameha Schools, which he founded. He served as a University of Hawai'i regent in 1960/61. He received an honorary Doctor of Divinity degree from the University of Chicago Theological Seminary. In 1969 he was elected a corporate member of the United Church Board of World Ministries, the overseas arm of the two million-member Church of Christ, and president of the Hawai'i Conference of the United Church of Christ.
Recognitions bestowed upon him included: Father of the Year in religion, 1958; Citizen of the Year, 1962; and Salesman of the Year, 1963. The Honolulu chapter of the National Society of Arts and Letters presented him an award for outstanding contributions to the Hawaiian way of life in 1965, and he received the Ke Ali'i Pauahi Award in 1963 from Kamehameha Schools.
Reverend Akaka was Hawai'i's spiritual leader and much more. He was an important part of our history, a symbol for faith and hope and goodness for all people from all walks of life. He was Hawai'i's Kahu - our revered shepherd.
"One of the first sentences I learned from my mother in my childhood was from this Holy Scripture: 'Aloha ke Akua' - in other words, 'God is Aloha.' Aloha is the power of God seeking to unite what is separated in the world - the power that unites heart with heart, soul with soul, life with life, culture with culture, race with race, nation with nation." - From the Statehood Service delivered at Kawaiaha'o Church by the Reverend Abraham Akaka on March 13, 1959, the day after statehood was announced.